I am delighted to share with you my experiences as a musician, teacher, and performer.  I teach violin and viola, and perform with the Long Beach Symphony.  Over the years, I have worked as a music specialist in schools, singing songs with guitar, telling stories with violin, creating movement activities to music, all the while encouraging children to participate fully.  I have been a preschool teacher, which has given me an understanding of how to create a safe environment for children to learn and grow.  The songs I write are especially designed to give children an awareness of their surroundings, and to broaden their horizons.
Welcome to my world of music where you can sing and move, laugh and learn, and most of all, have a wonderful time!
••••• You can purchase my CD, In My Neighborhood, here on in my Shop!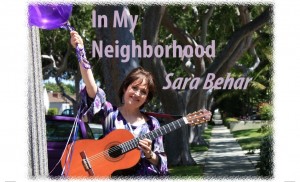 $16 for the CD (Free Shipping within the US)
Or Download the album digitally at CDBaby! 
Composed, arranged, performed and engineered by practicing teachers
and highly trained musicians.